Terry Naturally
ViraPro
Elderberry Immune Blend

SUGAR-FREE

Non-GMO

GLUTEN-FREE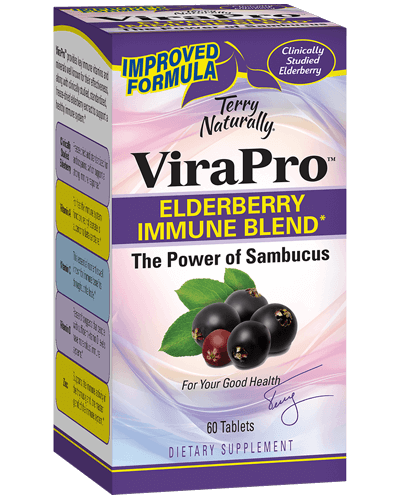 ViraPro
Elderberry Immune Blend
Powerful Immune Support, Every Day or When You Need it Most!
Fortify your immune system daily or use it just when you want additional support for your immune system.*
Worth it!! Works!!
"I have used these for years as part of my immunity boosting remedies."
-Alicia M. Koberstein
Good product
"I use the product daily. I appreciate what it does for my body"
-Mark S. Merrill
Description
✓Non GMO.
✓Sugar Free.
✓NO Artificial flavors and colors added
✓Soy Free
✓Vegan
ViraPro™ provides a powerful blend of vitamins and minerals along with a clinically studied, standardized elderberry extract to support a healthy immune system.*
Clinically Studied Elderberry – Standardized for anthocyanins, which support a strong immune response.*
Vitamin A – For healthy immune system function, retinyl acetate is superior to beta carotene.*
Vitamin C – This essential nutrient is well known for immune benefits throughout the body.*
Vitamin D – Research suggests that people with sufficient vitamin D levels have more robust immune systems.*
Zinc – Supports the immune activity of the thymus gland, the master gland of the immune system.*
Selenium – Works with magnesium to keep the immune system healthy.*
*These Statements Have Not Been Evaluated by the Food And Drug Administration. These Products are Not Intended to Diagnose, Treat, Cure or Prevent any Disease.
Benefits
Elderberries are known for:
✓ Boost the Immune system
✓ Tame Inflammation
✓ Lessen Stress
✓ And also help protect the Heart Health