Terry Naturally
Curamed
750mg

SUGAR-FREE

Non-GMO

GLUTEN-FREE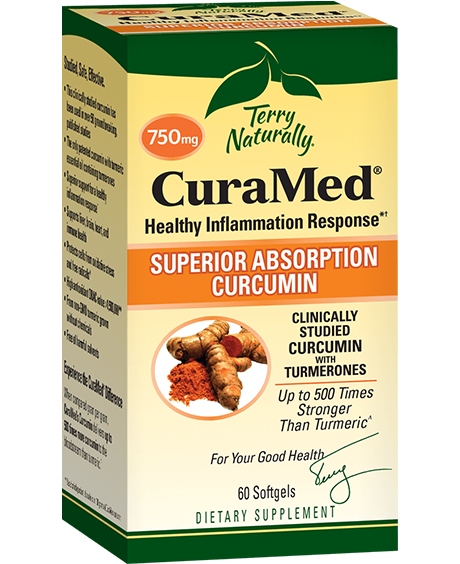 CuraMed. Healthy Inflammation Response
CuraMed is a natural product that helps with a healthy inflammation response due to the strong, anti-inflammatory properties of Curcumin.
Absolutely recommend to everyone with any constant pain
"I have pars defect on my L5 and has been causing pain and numbness for a long time.

I've tried the constant ibuprofen and really never noticed a difference in pain or numbness. But by the 2nd day of taking 3 capsules a day, morning, noon, evening,

I was truly amazed. I could move around so much better I could barely believe it, truly amazing. Obviously not healed or fixed the actual problem, but brought down the inflammation so much the pain and immobility is so much less."
-C Galloway
CuraMed has changed my life!
"I had foot surgery for a bone spur a year ago and when the doctor went into my foot, he found really bad arthritis as well. I had been in quite a bit of pain for a long time. One day I decided to try CuraMed, and within a day, literally, I had no pain in my foot! I have now been using this product 3-4 pills of the CuraMed Extra Strength for over a year, and I can walk 5 miles a day with no pain. I am ecstatic."
-Richard Spark-DePass
Description
✓Non GMO.
✓Sugar Free.
✓NO Artificial flavors and colors added
✓Soy Free
✓Vegan
CuraMed by Terry Naturally is made from Non GMO Clinically studied Curcumin (Curcugreen/BCM-95) which is up to 500 times more powerful that regular turmeric.
CuraMed also contains Turmerones, which play a fundamental role in the blood transportation and proper absorption of Curcumin and its great healthy properties.
Benefits
✓ Supports liver, brain, heart & immune health
✓ Protects cells from harmful free radicals
✓ Protects against oxidative stress
✓ Contains Turmeric oil, enhancing its absorption