Terry Naturally
Anxiocalm
40 mg

Gluten-Free


Non-GMO

No artificial colors or flavors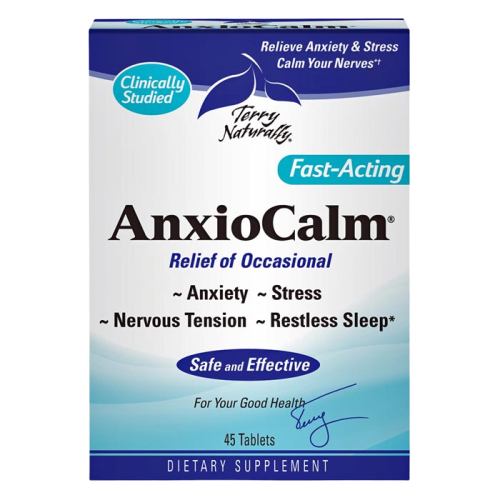 AnxioCalm is a supplement specifically formulated to ease occasional episodes of nervousness and anxiety, as well as to help better stress management.
It Works!
These really make a difference for my wife and daughter. Much better than any prescriptions that they have tried.
-Rick E.
The only product we have found to help…
My husband has severe anxiety and this is the only product we have found to help without side effects. I also use it occasionally when very stressed and it provides a gentle calming effect.
-Diane P
Description
✓Non GMO.
✓Gluten Free.
✓No artificial colors or flavors added.
Experience the fast-acting results of AnxioCalm by Terry Naturally: an all-natural product to reduce high levels of anxiety and stress.
Made from the extract of Echinacea Angustifolia, a different variety of Echinacea clinically proven to positively affect nervousness, stress, occasional anxiety, and restlessness.
AnxioCalm is fast-acting, effective, and safe for adults and children alike!
Benefits
Anxiocalm by Terry Naturally offers: ✓ Relief to Occasional Anxiety & Nervousness. ✓ Everyday Stress ✓ Excessive Worry ✓ Nervous Tension ✓ Restless Sleep