A couple of weeks ago, we were invited to a Zumba class by one of our new friends we made at Nature's Discount. It was a vibrant morning, full of energy and good conversations.
When we were dancing, we noticed that one of the participants was doing her exercises while wearing boots. They looked very heavy and were made of leather, so we couldn't help but talk to her after the session.
Maritza told us that her job involved standing for a long time, and that it caused her some discomfort and health issues, so she had to wear special shoes all the time,
"And you know, there isn't much to choose from when it comes to orthotics!"
But there is, Maritza!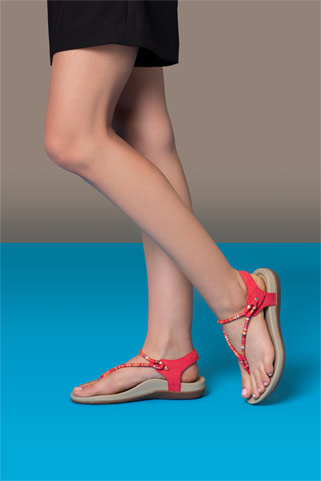 At Nature's Discount, we are defenders of well-being not only when it comes to food, but from any front we can cover. Wearing a comfortable, appropriate shoe that allows you to show your style and personality to the world while taking care of your well-being is also possible, and here we will tell you how.
With more than 70 years of experience in the area of ​​footwear and 20 of technological innovation, Aetrex is responsible for designing customized products that offer support, pressure relief, and better body alignment. Aetrex offers great comfort at a good price. It also offers a product that contributes to your well-being.
Their goal is to offer comfort and a casual style for every occasion. They also seek to keep its users active and healthy while doing the things they love to do. Aetrex guides their steps under the basic principle that "no two feet are the same", and have dedicated all their years of experience to cope with that challenge.
In order to offer well-being and comfort, Aetrex bases its principle on five fundamental pillars of fit that will allow you to understand why this brand has revolutionized the orthopedic footwear market: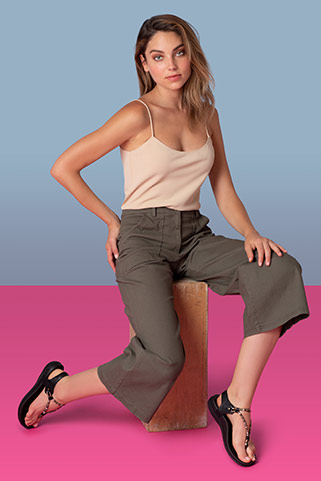 Aim for Success in 3-Dimensions: For an optimal size, you should consider all the elements of the foot.
Create an Equal Distribution of Pressure: Through complete contact and pressure distribution outside high pressure areas.
Provide Alignment & Support: Helping the foot stay close to the neutral position of the subtalar joint will reduce stress on the knees, hips and back.
Deliver Customization & Protection through Material Technologies: An optimal fit protects the foot through customization and by providing cushioning and shock absorption.
Recognize the Shoe is a Variable: Sizing amongst brands and styles is never uniform, and an optimal fit is best achieved by trying on different sizes or through machine learning technologies that address the fit characteristics of particular styles.
These five pillars, together with its basic principle, has allowed Aetrex to develop new ways of offering a completely different experience.
State of the art technology and customized experience
Directly from NASA during the 60s, memory foam was created to minimize pressure on astronaut bodies during space exploration. In the 90s, memory foam was already part of other fields such as construction, sports, rest, and footwear, as well as in Aetrex.
Memory foam has the ability to return to its original form, so it is a product of great durability that can be adapted to different shapes.
It is precisely this quality of adaptability and its original use that allow this technology to contribute to minimizing the pressure points generated by the body's own weight.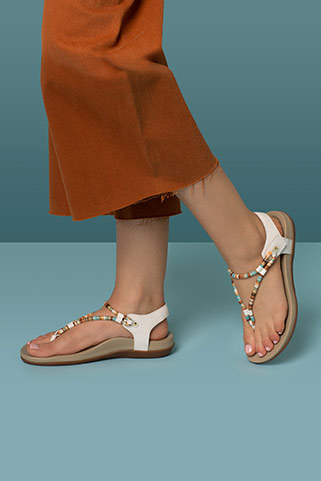 Reducing pressure points is not only helpful for people under certain conditions, it also improves blood circulation, which contributes to keeping your body healthy.
But at the House of Aetrex, cutting-edge technology and evolution go far beyond the use of materials.
Aetrex designs have changed to follow the latest trends. Those muted orthotics with little variety of shapes and even fewer colors are buried in the past. Nowadays, you can choose from lots of fashionable shoes with a variety of designs, materials and colors that will make you look radiant in any occasion.
In 2002, Aetrex was already a solid brand and benchmark in the market, and that was the moment they decided to take a step forward and start developing technologies such as the iStep to offer greater comfort to its users.
But this was just the beginning …
Currently, the Albert Scanner offers you the most sophisticated, modern interactive experience to obtain information about your foot and your ideal fit. This scanner features 18 digital cameras, 960 infrared LED lights and receivers, and 5184 gold-plated sensors.
A true wonder that complements an avant-garde fashion design to stand out right from the first step …
And how does it work?
Albert's technology collects personalized information about the type of arch of your foot and pressure points. This information is then converted into a 3-D model of your feet along with a pressure map of each foot. This way, and based on your personalized information, you can receive guidance on what is the best model, size and style of footwear for you based on your unique needs.
The Gaitway Scanner, which also uses Albert's software, collects distribution data on the pressure exerted on your feet when walking. This scanner performs dynamic and static tests, and collects information at a rate of 30 frames per second.
Albert's software offers such a unique experience. You can download a mobile application that will help you get a more accurate idea of ​​your foot size and arch type. Based on this information, the app offers you recommendations, and products that suit your specific needs.
The range of Aetrex footwear technology is so wide and customized that it even allows you to create unique insoles you can wear in your current shoes. Although surely after reading all this and having a look at the different designs, you will know that it is time to visit us at Nature's Discount and make a change of footwear. You will simply fall in love with the variety of designs that you have at your disposal.
Have you heard the expression fit like a glove? From now on you will say fit like Aetrex …
Technology and fashion at the service of well-being
The Aetrex Technology Ecosystem integrates hardware, software, foot orthopedics and design to offer a fashionable product of quality and comfort, that also brings a better well-being in the health of its users.
Yes! Now you can be a fashionista without leaving the comfort and health aside.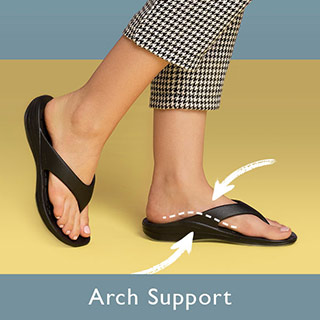 With its running, walking, gym & training, boots, casual, cleats, flats & loafers, heels, oxfords, and work collections, you will feel like a Top Model while you rule the world with your walk.
Aetrex technology is also dedicated to offering solutions for those who stand frequently and experience pain or discomfort. Aetrex shoes have an arch support that helps biomechanically align the body and prevent common pains and conditions such as flat feet, plantar fasciitis, arch, heel and ankle pain, varicose veins and metatarsalgia.
Are you an extreme athlete, a full-time teacher, a doctor or nurse on duty, or do you work standing up in a restaurant? Aetrex technology is also specially designed for you.
By decreasing, eliminating or distributing high pressure points, Aetrex technology provides greater support to distribute body weight and improve circulation in the body.
Aetrex even offers a line for pregnant women. Its technology takes care of you while you take care of your most important person.
With Aetrex, those heavy and stiff black boots that we used to use even for sports are a thing of the past. Choose a comfortable, safe, unique shoe that fits your style to ensure your walk.
At Nature's Discount we want friends like Maritza to feel healthy, comfortable, free, full of energy, and to let their personality shine for the world to see it. From all fronts, we join you at the beginning of a healthier life.